Type IIR Blue 50 Pcs. Mask
• YG YANGIN GÜVENLİĞİ LTD. We carry our 15 years of experience in human and environmental safety categories to the surgical mask category with our rebi brand • Bacteria filtration efficiency, Breathability (pressure difference), Microbial cleaning and splash resistance (protection of clothing against infectious agents) tests in accredited laboratories as TYPE1, TYPE2, TIP2R. It provides bacteria filtration and PFE Particle filtration efficiency up to 98.7% with the Ministry of Health approved rebi mask Type2r, which has been tested at 3 different levels. • 3-layer, spunbond + melt blown + spunbond skin-friendly layers • Special protection in all layers, not in a single layer • Comfortable use for hours with cotton-like soft layers • Protection and comfort with soft elastic ears that do not hurt • Fully compatible nose wire • Allergy-free • Latex free • Paraben Does not contain • Nylon free • CE certified • Safe production in accredited laboratories for Type I, Type I, Type IIR, TYPEI, TYPEII, TYPEIIR, en14683, iso13485, iso11737, iso22609.
DEFINITIONS OF REBI 3-LAYER MEDICAL SURGICAL MASK LAYERS:
Layer 1:
Spunbond Non-woven moisture retention layer absorbs the hot air coming out of your mouth and gives a fresh feeling.
Layer 2:
It is made of electrostatic Meltblown Non-woven fabric. It is the floor where solid, liquid or gaseous particles such as viruses, bacteria, dust, etc. are largely filtered after passing through the 3rd floor, and the thickness, density and additive-free nature of the product used are very important to provide the best protection.
Layer 3
The special layer we obtained in the mixture of Spunbond Non-woven and Meltblown Non-woven fabrics that are resistant to Colored Liquid Particles: It is the layer where solid and gaseous particles come into contact first, including blood splashes and body fluids that can splash, with the liquid impermeability effectiveness test results of our special textile. has been proven.
EN 14683: 2019 + AC 2019 (TS EN 14683 + AC: 2019) EK-B Medical Face Mask
EN 14683: 2019 + AC 2019 (TS EN 14683 + AC: 2019) ANNEX-D
EN ISO 11737-1: 2018
EN 14683: 2019 + AC 2019 (TS EN 14683 + AC: 2019) ANNEX-C
ASTM F2101
MIL-M-36954C
ASTM 1862
EN 14683: 2019 + AC 2019 (TS EN 14683 + AC: 2019) Article 5.2.4
ISO 22609: 2004 Protection of clothing against infectious agents – Test method for resistance to synthetic blood penetration
BACTERIA FILTRATION EFFICIENCY (cfu / ml) = 98.7%
MICROBIAL CLEANING (Bioburden, cfu / g) = 12 cfu / g
BREATHABILITY PRESSURE DIFFERENCE, (Pa / cm2) = 31.1 Pa / cm2
LEVEL OF RESISTANCE AGAINST SYNTHETIC BLOOD INFLATION = 21.3KPA
PRODUCT FEATURES:
LENGTH = 175 mm
WIDTH = 95 mm
Description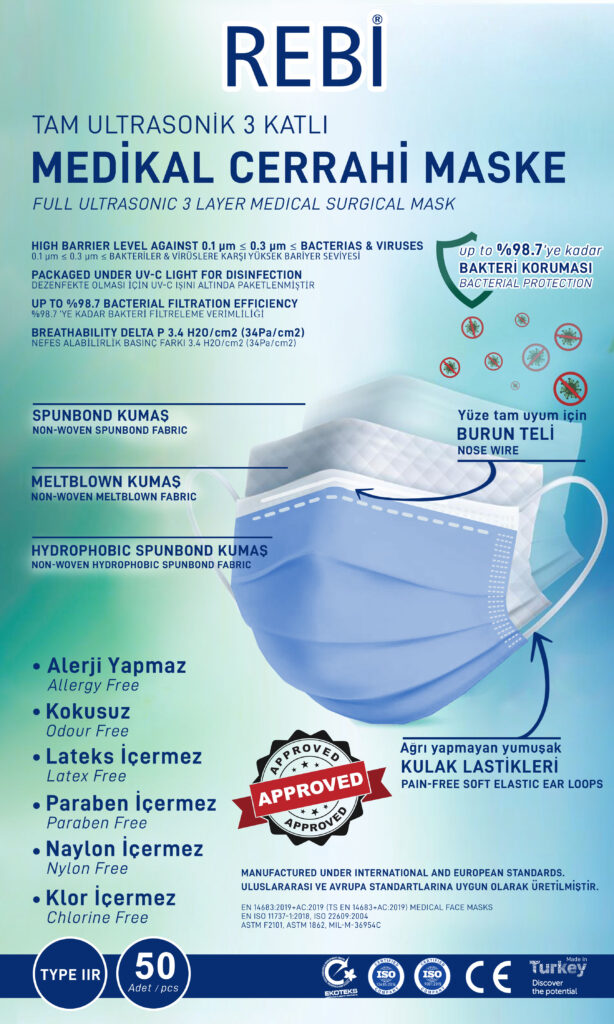 REBI® FULL ULTRASONIC MEDICAL SURGICAL MASK
REBI® Disposable medical surgical face mask provides 3 different protection levels in 3 models (TYPE I, TYPE II, TYPE IIR). It protects your health against harmful particles, bacteria and viruses in the best way by offering different efficiencies in accordance with the required parameters.
TESTED APPROVED BY ACCREDITED LABORATORIES ACCORDING TO INTERNATIONAL STANDARDS.
Product Description and Purpose of Use: It is mandatory to be used by healthcare personnel, patient visitors and patients so that a microbe, disease, bacterium or virus does not pass / infect from one patient to another patient or non-sick person via air / splash Disposable medical and surgical face mask with an anti-contamination mouth-nose barrier.
Note: During the COVID-19 pandemic process, it is recommended that every individual who goes outside or will meet with a second person, should be used to protect themselves and others.
Warnings / Precautions: Masks are personal and disposable. It should be used for an average of 6 hours, but when it is deformed due to contact with liquid and / or other reasons, it should be changed immediately. Do not use the same mask in different environments and patients, if the environment is changed, discard the mask you used and replace it with a new one. Avoid touching the mask while the mask is on your face, and immediately after contact with a used mask, disinfect / cleanse your hands with 80˚ cologne or in accordance with hand washing instructions.
Instructions / Conditions of Use: Wash your hands before using the mask. With the nose wire up, hold the mask by the threads and place it on your face and pass the threads behind your ears. The mask should be worn in a way that it covers the mouth, chin and nose completely and there is no gap between the face and the mask. After it is attached, shape the adjustable nose wire according to your face.
INTERNATIONAL STANDARDS
TEST METHODS
YG-T1
TYPE I
YG-T2
TYPE II
YG-T2R
TYPE IIR
DESIRED VALUES
EN 14683:2019+AC 2019 (TS EN 14683+AC:2019) Medical Face Mask
ASTM F2101
BACTERIA FILTRATION EFFICIENCY (cfu / ml)
%95.5
0.98
%98.7
TYPE I ≥ %95
TYPE II ≥ %98
TYPE IIR ≥ %98
EN 14683:2019+AC 2019 (TS EN 14683+AC:2019) EK-D
EN ISO 11737-1:2018
MICROBIAL CLEANING
(Biyoyük, cfu/g)
10 cfu/g
10 cfu/g
12 cfu/g
TYPE I ≤ 30 cfu/g
TYPE II ≤ 30 cfu/g
TYPE IIR ≤ 30 cfu/g
EN 14683:2019+AC 2019 (TS EN 14683+AC:2019) EK-C
MIL-M-36954C
BREATHABLE
(PRESSURE DIFFERENCE, Pa / cm2)
34.4
Pa/cm2
34.4 Pa/cm2
31.1 Pa/cm2
TYPE I ≤ 40 Pa/cm2
TYPE II ≤ 40 Pa/cm2
TYPE IIR ≤ 60 Pa/cm2
EN 14683:2019+AC 2019 (TS EN 14683+AC:2019) Madde 5.2.4
ISO 22609:2004 Your clothes against infectious agents
Protection-Test method for resistance to synthetic blood penetration
ASTM 1862
BLOOD SPASH RESISTANCE (kPa)
N/A
N/A
>21.3 kPa
TYPE I ≥ N/A
TYPE II ≥ N/A
TYPE IIR ≥ 16 kPa